Miniwell Filtration System L901-01 Water Camping filter With Replacement - For Hiking Purification (White) - Remove Chlor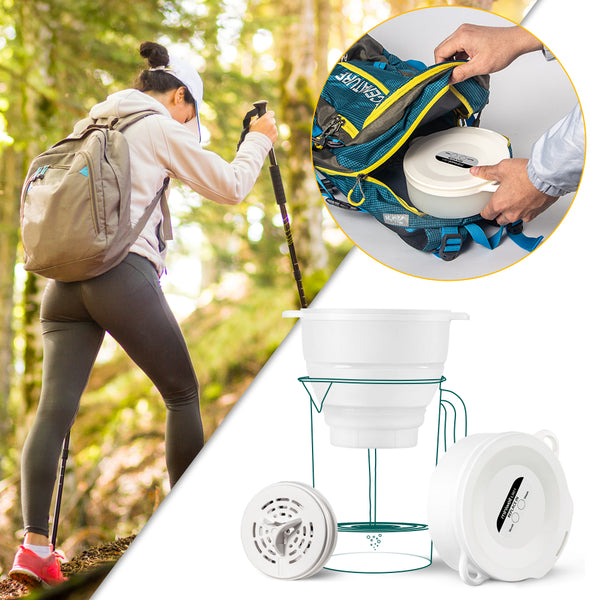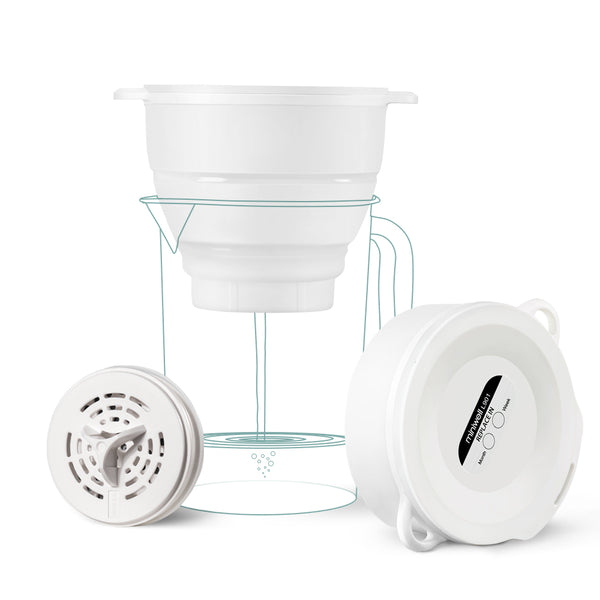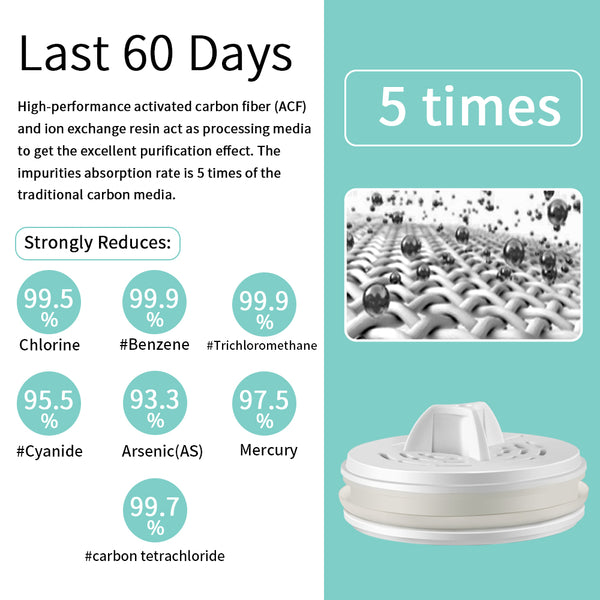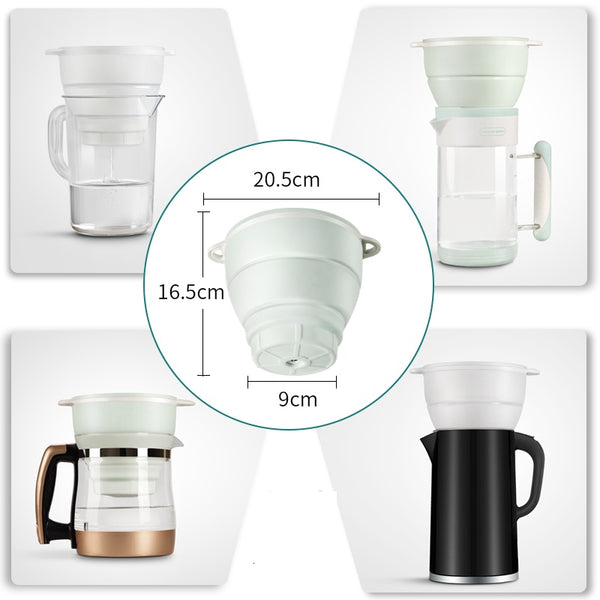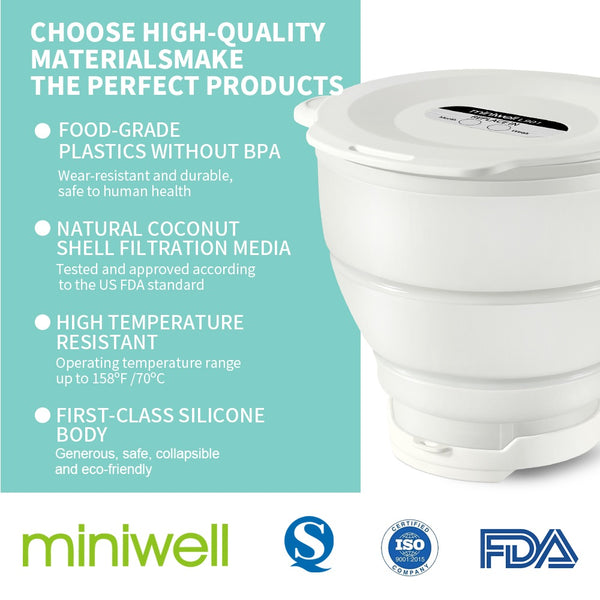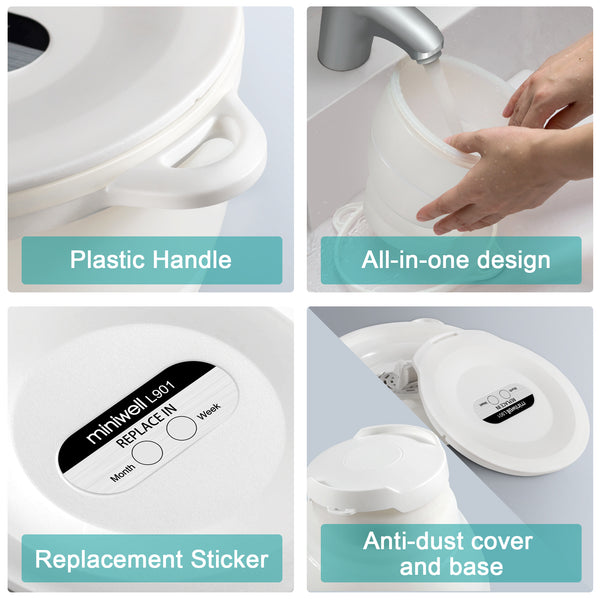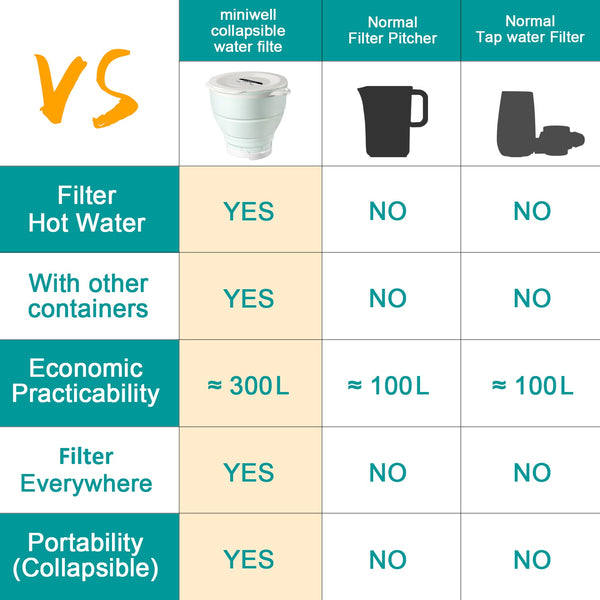 Enjoy Premium Water Anytime - Miniwell Collapsible Water Filter L901
MINIWELL has been cultivating in the field of water purification for many years, and aims to pursue and provide the best quality water purification products. This collapsible water filter is made of food-grade PP and silicone, equipped with the super strong filtration media, which can effectively remove many kinds of harmful substances (Such as Chlorine, Arsenic, Mercury, Benzene, and Trichloromethane). Whether it is cold or hot, this filter can remove 99% residual chlorine and other carcinogens, improve the taste of water and facilitate your daily life, very suitable to use at home, office, and outdoor camping or hiking.
Three advantages - You should have it!
- SPACE SAVING DESIGN , TAKES UP LESS SPACE.
Only 2.56 inch high, equal to the height of the paper box when it is folded.

- CAN BE USED WITH MANY USUAL CONTAINERS, SUCH AS JURS, KETTLE, PITCHER AND ETC.
Unlike many water filter pitchers connecting with their own containers, Miniwell collapsible filter bring you cleaner, better tasting water more conveniently, it is fold-able, take up less room in your kitchen cupboards, and can be used individually or with other existing containers.

- EXCEPTIONAL QUALITY & GREAT TASTING.
Made up of high-grade BPA-free plastic, with a simple, mess free silicon body, which can bare the high temperature. All components (except the filter cartridge) can be cleaned in the dishwasher or by hand. Furthermore, it has a lot of advantages, including:

1. Natural coconut shell filtration media is tested and met the standard of FDA

2. The operating temperature is up to 120ºC
First-class Silicone body, more Generous and safe.

3.Food-grade plastics without BPA, wear-resistant and durable, safe to human health

4. Food-grade plastics without BPA, wear-resistant and durable, safe to human health
UNIQUE PROCESSING FILTRATION MEDIA
5 TIMES ABSORPTION RATE

Miniwell select the high-quality coconut shell, make the first-grade activated carbon fiber with the special treatment technology, which impurities absorption rate is 5 times of the traditional carbon, enables the filter to remove 99% of chlorine, trichloromethane,dimethoate, benzene, carbon tetrachloride, cyanide, arsenic, mercury, reduces organic matter and unpleasant odors. Long lasting filter cartridge can last 60 days (about 100 Gallons). Meanwhile, a helpful sticker indicator on the top cover will help to remind when it needs to be replaced. Please replace the filter cartridge every 100 gallons.
Say goodbye to limescale
Adopt high-performance activated carbon fiber (ACF) and ion exchange resin act as processing media to get the excellent purification effect. The filtered water can effectively reduce the limescale in the household appliances, which makes the tea more clear and mellow and the cooked rice much softer than ever.
Product Details
FAQ
1. How to store the filtered water?
Usually please place the filtered water in a cool place, such as a refrigerator. In addition, the filtered water should be avoided to place under the sunlight and use within 1-2 days.

2. How to handle with the filter when going on vacation or not in use for a long time?
It is recommended to pour the water out and remove the filter cartridge. Please thoroughly clean the filter and replace with the new filter cartridge before next using.