Miniwell Replacement Filters for Collapsible Water Filter L901-01 or L901-B1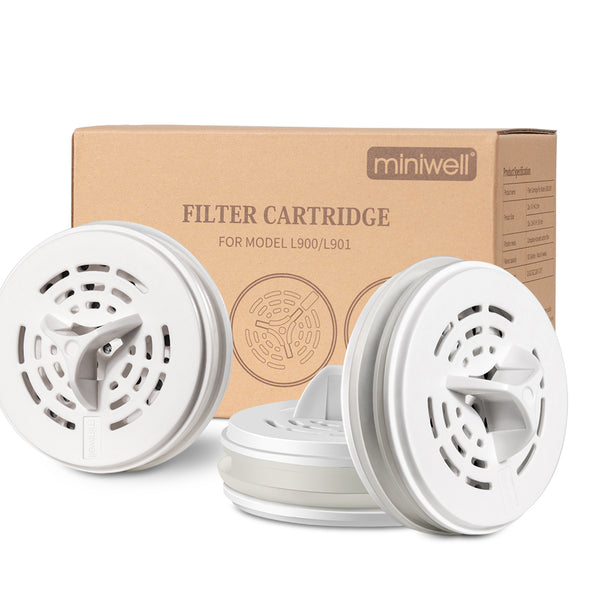 UNIQUE PROCESSING FILTRATION MEDIA
5 TIMES ABSORPTION RATE ​ ​Miniwell select the high-quality coconut shell, make the first-grade activated carbon fiber with the special treatment technology, which impurities absorption rate is 5 times of the traditional carbon, enables the filter to remove 99% of chlorine, trichloromethane,dimethoate, benzene, carbon tetrachloride, cyanide, arsenic, mercury, reduces organic matter and unpleasant odors. Long lasting filter cartridge can last 60 days (about 100 Gallons). Meanwhile, a helpful sticker indicator on the top cover will help to remind when it needs to be replaced. Please replace the filter cartridge every 100 gallons.
Say goodbye to limescale
Adopt high-performance activated carbon fiber (ACF) and ion exchange resin act as processing media to get the excellent purification effect. The filtered water can effectively reduce the limescale in the household appliances, which makes the tea more clear and mellow and the cooked rice much softer than ever.
FAQ
1. How to store the filtered water? ​Usually please place the filtered water in a cool place, such as a refrigerator. In addition, the filtered water should be avoided to place under the sunlight and use within 1-2 days. ​ ​2. How to handle with the filter when going on vacation or not in use for a long time? ​It is recommended to pour the water out and remove the filter cartridge. Please thoroughly clean the filter and replace with the new filter cartridge before next using.