Outdoor Water Filter Hand Pump Style L610 | miniwell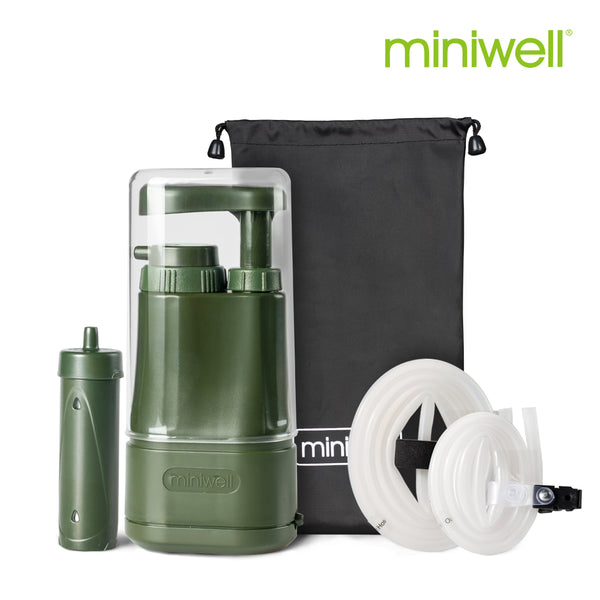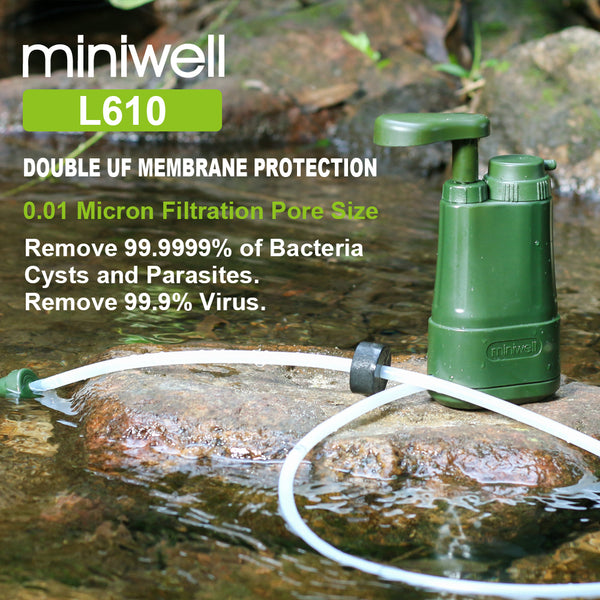 Survival Portable Water Filter with 0.01micron Filter Pore Size

Smallest filter pore size in portable water filter market.

Miniwell L610 portable water filter enables users to drink clean great-tasting water from renewable natural fresh water sources.

It is effective against bacteria (Salmonella, Cholera, E coli, etc), protozoa cysts, and virus,also removes residual chlorine, unpleasant taste, odor and color.

Miniwell portable water filter is ideal for hiking & camping, travel, emergency preparedness and survival.

Because L610 is portable and lightweight,it is also great for travelers who do not want to rely on the quality of local water.

Features:

Smallest Filter Pore Size 0.01micron

Removes 99.9% Waterborne Bacteria and even Viruses.

Removes 99% Cadmium, Lead, Mercury (Heavy Metal).

Superior Filtration Capability: 1000 Litres.

Enhanced Reduction of Chlorine taste, Unpleasant Taste, Odor and Color.

Retains Beneficial Minerals in the Water.

Filter cartridges replaceable

Certified by FDA CE SGS

Shelf Life: 5 years(After Initial Wetting: 3 years)



Structures:

3 stages filtration process of miniwell L610 mechanically filters fresh running water to great tasting water.

It does not require chemicals, electro power or UV light to operate.

Stage 1:0.1 Micron UF Pre-Filter blocks sand, rust, silt, worms, bacteria and the other large particles that may clog the system. Helps to extend the carbon filter (stage 2) and UF membrane (stage 3) life capacity.

Stage 2:Carbon Fiber Filter strongly removes unpleasant taste, odors and residual chlorine in raw water, even heavy metals (Lead, Mercury, and Cadmium) thanks to the large surface area of carbon fiber.

Stage 3:0.01 micron filtration pore size of Miniwell L610 UF filter has high effectiveness in removing protozoa (for example, Cryptosporidium, Giardia) and bacteria (for example, Campylobacter, Salmonella, Shigella, E. coli) also effectiveness in removing viruses man known (for example, Enteric, Hepatitis A, Norovirus, Rotavirus)". Delivers you 1000 Liters safe drinking water.



UF features:

The L610 Ultra-filtration filter features a state-of-the-art UF Hollow Fiber Technology membrane at level of 0.01 micron.

Water naturally flows through the pores from the outside-in through the membrane wall under low pressure.

Suspended particles and materials of high molecular weight are unable to pass through the 0.01 micron UF membrane,

leaving you with only fresh clean water and beneficial minerals.

The sample technology is used to produce clean water in large municipal water treatment plants.

Also, UF membrane can be back flushed to extend lifespan. L610 UF filter outside-in configuration maximizes the ease of backwashing. UF membrane performance can maintain much more than 1000Liters if clearing is appropriate.

Product Details

Easy to use:
1. Place inlet hose in running fresh water source (river, lake and rain, etc.).
Use the float to keep prefilter off the bottom and away from sediment.

2. Place outlet hose into attached cup or a clean water container.

3. Start pumping by moving the handle up and down.

Cleaning:
L610 filter cartridges can be cleaned by clean water. Miniwell suggests cleaning the filter with clean water after each use.
1. Remove prefilter from inlet hose.
2. Place water inlet hose into clean water. Pump the water flowing through the L610 water filter until water runs out from outlet hose.
3. Connect the pre-filter to outlet hose. Pump the water flowing through pre-filter until water flow is clean from prefilter.
For more thorough cleaning, the UF filter can be cleaned by rinsing with mouthwash and then shaking the filter with the open end facing down to dislodge any particulate. (
NOTE
: Carbon filter should only be rinsed with clean tap water.
)
Replacing:
L610 filter cartridges can be replaced. You don't have to throw away whole system.
1. Prefilter replacing:
Remove Pre-Filter from water inlet hose then reinstall new Prefilter.
2. Carbon filter and UF filter replacing:
2.1 Unscrew UF filter counter-clockwise and gently remove UF Filter /Carbon Filter assembly.
2.2 Gently rotate UF filter so that Lock Pins are aligned with openings of Lock Slots. Pull UF filter away from Carbon Filter
2.3 Put the carbon filter and UF built-up filter into housing and screw on tightly. Replace new filter.
Note: If you would like to buy L610 filter replacements as backup, please click on the picture below:

Test report:
Miniwell L610 has got FDA, CE certificates and passed through SGS test report.

Comparison:

We compare Miniwell Products with other brands water filters in the market.


We add a handful of mud and a few drops of carbon ink into the untreated water for simulating dirty water.


The filtered water from miniwell L610 is cleaner than other similar water filter.


It is simple to have access to fresh clean water as long as you have one miniwell L610.



Packing includes
portable water filter*1
outlet and inlet hose *1
carry bag*1
manual*1

FAQ
1. How often do I change my filter? How do I know it's time to change the filter?
It depends on the quality of the water you are filtering.
The more contaminated the water, the shorter the life of the filter.
Miniwell suggests choosing renewable fresh water as water source.

Don't choose human and industrial wastewater as water source.

Pre-filter--- If the water flow slows down from filter, please check if prefilter is clogged.

Please backwash pre-filter.

If water flow is slow eventhough repeat backflushing a couple of times, please change filter.

Carbon fiber filter
---If used continually for 12 months,
the carbon fiber filter may become less effective at absorbing taste,
odors and heavy metal. Miniwell suggests replacing the carbon fiber filter after 12 months.
UF filter
---The UF filter will not allow water to flow when it reaches capacity.
If you find water flow slow down or can not come out water from filter, rinse or change the UF filter.

2. How often should I clean and maintain the filter?

Miniwell suggests cleaning the filter with clean water after each use.

Before storing the filter, disassemble the components.

Use clean water to wash the parts and allow them to soak in vinegar as a disinfectant.

After cleaning, allow the parts to air dry and then reassemble.

Store the filter in a cool and dry location.

( Note: Do not use vinegar on the carbon fiber filter as this will shorten the lifespan of the carbon fiber filter)

3. Does it filter salt water?

No. Miniwell L610 filtration pore size on membrane is 0.01 micron.

Dissolved salt passes through 0.01micron membrane.

In other words, Miniwell L610 keeps minerals from natural freshwater sources in filtered water.

4. Can I become a miniwell distributor?

Yes, we are looking for distributor. Please contact us to learn more.

5. My question wasn't answered here. Or maybe I just want to say hi.

Our super friendly customer care team will be happy to hear from you! Contact us now.