Miniwell Replacement L751-R For Aroma Vitamin C Filtered Shower Head L751 and L751-W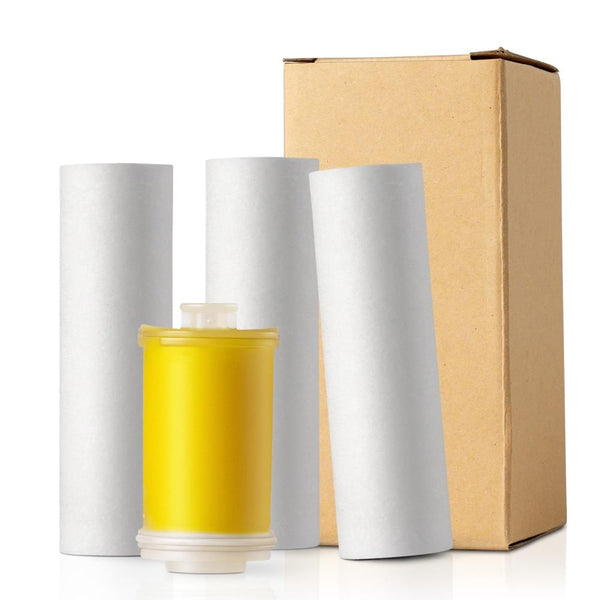 MORE HEALTHIER SHOWERING EXPERIENCE FROM NOW ON
Miniwell insists on advocating a healthy, relaxed, and comfortable lifestyle, and devotes to developing a high-quality filtration system - Model L751 Aroma Vitamin C filtered shower head, which designs to significantly reduce chlorine, chloramines, and dissolve minerals present in hard water. Miniwell shower head filter for hard water softens your water, dramatically improves your hair, skin, and nails condition as well as helps with hair loss and skin dryness, ensuring our customers have a better shower experience.
SUPERIOR HARD WATER FILTER
This system is composed of stainless steel, plastic with a Vitamin C filter, and PP cotton filter cartridges, which effectively removes chlorine, chloramine, and sediments and softens well water by filtering iron, rust, chrome, and heavy metals.
REVITALIZING YOUR BODY GREATLY
Our vitamin C lump is made in Korea, its lifetime is twice that of traditional products, furthermore, it does not contain Cadmium, Lead, Mercury, Hexavalent Chromium, and other heavy metals, which greatly reduce the irritation to sensitive skin. Meanwhile, it can increase pH and effectively removes harmful substances from your shower, helping with hair loss, dry scalp, itchy skin, and dandruff. The soothing citrus smell rejuvenates the senses, reduces stress, and improves mood and sleep quality.
?
RING-SHAPED PP FILTER, SAFE for KIDS AND PETS
Because of its high-density structure, the absorption rate of this 4mm thick filter is 5 times that of traditional filtration media, which helps to remove chlorine, sand, rust, and other impure sediments that cause the hardening of water. Let you enjoy chemical-free showers with extra skin & hair care benefits.